State-Of-The-Art Laser And Skin Care Center in Corona, Ca.
Estrella Aesthetic & Surgical Arts is not only the most advanced medical aesthetic center in the State of California, but also serves as a training center in Corona (CA) for fellow physicians and nurses seeking to advance their knowledge.

Follow us on instagram
Estrella Aesthetics
Meet the Professionals at
Estrella Aesthetics & Surgical Arts
Dr. Rahil Khan, M.D.
Dr. Khan has an amazing energy that will immediately set you at ease during your initial consultation. Dr. Khan has over 18 years of experience in Aesthetic & Sports Medicine with specialization in Stem Cell and Regenerative Medicine. He is the only Certified Provider of PShot Therapy for Erectile Dysfunction in the Inland Empire.
Dr. Andrew Jarminski, M.D.
Andrew Jarminski, M.D. has created a unique approach to both surgical and non surgical cosmetic and aesthetic procedures. Since he recently joined Estrella Aesthetics & Surgical Arts, he brought a personalized approach to Cosmetic Surgery by specializing in one on one time with the doctor in a quiet and concierge type setting that enables his patients to relax and spend time getting to know their doctor.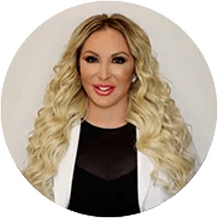 Judi Castro, RN, MEP-C, CAC
Judi has an extensive clinical experience with laser-based skin rejuvenation procedures; advanced skin care regimens; Botox and dermal fillers. In her 17 years of practicing Aesthetic Procedures, she has performed thousands of Non-Surgical Facial Rejuvenation treatments for satisfied clients. Learn more about Judi Castro.
Summer Castillo, NP
Summer brings years of extensive training and expertise to aesthetic treatments. She has many years of experience with Neurotoxins and dermal fillers which allow her to help educate and guide each patient, make recommendations and work together to reach the patients' goals.