Vampire Facelift (Lift Ageless) del renombrado Cirujano Plástico Facial y Cirujano Estético, en Corona, CA
Rahil Khan, M.D.
Estrella Aesthetics & Surgical Arts
Corona, California
¡No deje que el nombre le asuste! El resultado es una piel joven, en poco tiempo, y con una recuperación rápida …. la excelente alternativa a una cirugía estética más invasiva.
Todos deseamos una piel radiante, con una sensación suave y juvenil. El uso de un Vampire Facelift (levantamiento de cara) ofrece un nuevo enfoque para la reparación de los signos reveladores de la piel dañada y envejecida. A medida que el proceso de envejecimiento continúa atacando su belleza mediante la pérdida de volumen, arrugas, tono de piel deslucido, con aspecto envejecido, usted es sin duda una candidata viable para los beneficios que el Vampire facelift proporciona a través de los factores de crecimiento de PRP
El daño por el sol, el tabaquismo y el envejecimiento altera la consistencia y el aspecto de su piel creando manifestaciones no deseadas. El elemento más visible del Vampire Facelift es el renacimiento de la forma de su piel. El volumen de agua disminuye con la edad y la exposición al sol provocan bajo la superficie de la piel, que aumente la capacidad de las células de la piel para unirse con el agua y el resultado es una más lenta producción de colágeno y elastina, y el aspecto de arrugas profundas a medida que la cara pierde volumen y estructura. Los rellenos producen una apariencia más completa, suave, aumentando la hidratación, y la producción de colágeno y elastina.
Pasos en el Vampire (Ageless) Facial y en el Vampire (Ageless) FaceLift?
La microdermoabrasión – elimina la capa de piel exterior a prueba de agua conocida como el estrato córneo
Se puede agregar Hydrafacial para hidratar la piel, lo que mejora la absorción del plasma rico en plaquetas (PRP)
La Punción Dérmica utilizando el Micropen crea una abertura temporal (15-20 minutos) en la impermeabilización de la piel. La implementación de estos tres primeros pasos para optimizar la absorción del PRP, ya sea antes de la colocación del PRP tópicamente (facial) o la inyección intradérmica (cirugía estética) crea un mejor resultado.
La colocación de relleno dérmico, por lo general con una cánula de punta roma debajo de la dermis, cánulas DermaSculpt, puede rejuvenecer la pérdida de volumen a la cara
El paso final es la colocación tópica del plasma rico en plaquetas o la inyección intradérmica de PRP. A menudo se aplica una crema hidratante sobre el PRP antes de volver a casa.
Todo el proceso toma alrededor de una hora a una hora y media. El procedimiento es mucho más cómodo que la aplicación de una solución de lidocaína y tetracaína tópica durante 30 minutos antes de la punción cutánea, y mejor después de la aplicación de HydraFacial.
Ray Khan, MD está realizando el primer estudio científico objetivo en los EE.UU. teniendo en cuenta las medidas de resultados:
La elasticidad de la piel se mide con una tasa de succión por minutos llamada elastómero que cuantifica el nivel de elasticidad presente en la piel
El equipo Enhanced Image Pro (Emage) evalúa los objetivos en las siguientes características de la piel: arrugas, pigmentación, tono, tamaño de los poros, porfirinas (vasos sanguíneos) y el sebo
Las biopsias de piel en cuanto al grosor de la piel, así como el colágeno y la producción de fibra de elastina
La documentación fotográfica de los cambios estéticos juveniles
Las indicaciones para un Vampire Facial y FaceLift?
líneas faciales finas y gruesas
disminución de la elasticidad de la piel
adelgazamiento de la dermis
mejora de la apariencia de cicatrices quirúrgicas y cicatrices de acné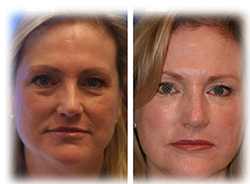 Adelgazamiento de los de labios superior e inferior también son signos de envejecimiento. Ray Khan, MD puede recolectar su propia grasa y transferirla a las áreas de pérdida de volumen para una mejora permanente del volumen, en lugar del uso de rellenos dérmicos para la reposición de ese volumen perdido.
Si está buscando mejorar la apariencia, la textura y el color de su piel, así como suavizar las líneas finas y arrugas molestas, el Vampire FaceLift es un tratamiento ideal para usted. También proporciona beneficios adicionales, tales como el crecimiento de su propio colágeno, mejora en la claridad y el tono de la piel, así como la recuperación de una apariencia más suave, con un aspecto joven de su piel.
¿Cómo funciona el Vampire Facelift?
La reparación y fortalecimiento de su piel con los factores de crecimiento derivados de la sangre. Los factores de crecimiento son las bases para crear una piel hermosa ya que reviven, forman, reparan y fortalecen la piel
se extrae la misma cantidad de sangre que se extrae en una prueba estándar de laboratorio
la sangre se coloca en una centrífuga, y se centrifuga a un ritmo rápido para separar las plaquetas de los otros componentes de la sangre.
Tercero, el plasma rico en plaquetas o PRP se activa para liberar al menos 8 factores de crecimiento esenciales.
Las terapias adyuvantes de anestesia para hacer que los pacientes estén más cómodos, incluyen bloqueos de nervios faciales, colocando cada inyección en cada nervio sensitivo de la cara (nervio trigémino) con un milímetro (1/5 cucharaditas) de anestésico local. Además, algunos pacientes prefieren la sedación oral con Ativan (lorazepam), similar al valium, y un analgésico narcótico, hidrocodona (Norco, Vicodin, Lortab) para relajarse. El procedimiento de Vampire Lift causa molestias mínimas donde pocos pacientes necesitan medicamentos para el dolor después del procedimiento.
¿Cómo se realiza el procedimiento Vampire?
Paso 1


El polímero patentado específico para concentrar las plaquetas y factores de crecimiento es el mejor en el mercado.
Tabla 3


De Mazzucco, L., V. Balbo, et al. (2008). "Platelet-rich plasma and platelet gel preparation using Plateltex." Vox Sang 94(3): 202-208.
Paso 2

¿Qué es es el Vampire FaceLift?

El Vampire FaceLift es similar al procedimiento para aplicar rellenos dérmicos, el cual es un procedimiento mínimamente invasivo. El procedimiento se inicia mediante la extracción de sangre del paciente. La sangre se coloca en una centrifugadora y se centrifuga a gran velocidad para separar las plaquetas de otros componentes de la sangre. Luego, las plaquetas se activan con calcio, generando su propio plasma rico en plaquetas (PRP).
Después de aplicar el relleno dérmico, Ray Khan, MD utiliza la aguja más pequeña disponible (30 g) para inyectar el PRP debajo de la piel y rellenar el tejido blando de la dermis. Una "técnica de inyección facial global" se puede realizar para llegar a todas las áreas faciales. Este proceso añade volumen, reduce la aparición de arrugas y la apariencia de los pliegues naso labiales, mejora la apariencia de la piel y estimula la producción de colágeno, con un tiempo de inactividad mínimo.
¿Cuáles son los beneficios del Vampire FaceLift?
Cuando se combina con rellenos dérmicos, como Juvederm, o su propia grasa y células madre con plasma rico en plaquetas (PRP), los efectos del tratamiento son muy visibles. No sólo el PRP desencadena un aumento en el volumen, el PRP contiene al menos 8 factores de crecimiento que, durante un período, trabajan continuamente como un factor revitalizante.

Por galvanización de estos factores de crecimiento:
El color de su piel progresa y se ve joven, debido al desarrollo de nuevos vasos sanguíneos.
La creación de nuevo colágeno en la dermis levanta la cara nuevamente a una forma más vigorosa.
Una nueva dermis comienza a desarrollarse, causando que la epidermis (la mayoría de las capas externas de la piel) luzca más sedosa.

De Mazzucco, L., V. Balbo, et al. (2009). "Not every PRP-gel is born equal. Evaluation of growth factor availability for tissues through four PRP-gel preparations: Fibrinet, RegenPRP-Kit, Plateltex and one manual procedure." Vox Sang 97(2): 110-118.

This procedure has been featured on "Dr. Oz" and "The Doctors" and is now available at Estrella Aesthetics & Surgical Arts at (951) 356-1207 For more information or to schedule your complimentary consultation contact us today!